Sometimes, things just work out that you really don't expect. The deal described in this post is one.
Spoiler: we did a deal on this house this week and it is definitely a highlight of our investing journey so far simply because of a few obstacles and, well … look at it! It's a little intimidating.
Patience, patience, patience.
This deal was a long time in the making. We drove by this house back in AUGUST 2020 and noted it in our DealMachine app, discussed in this post. We started mailers and this is what the owner, we'll call her Marcia, received:
Marcia didn't call us until January 7th, 2021, meaning she had received probably five of these postcards since August, which repeat every 30 days. We learned early on that marketing efforts take multiple "touches" before a potential lead responds. Think about how many times you have seen that Wish Facebook ad for a unicorn onesie before you actually clicked on it and purchased it. Repetition works. Usually six is considered the magic number. So, the way this worked out fits that description.
During our phone call, Marcia explained that she inherited the property from her mother about three years prior. Someone living there had begun some renovations shortly after that, but didn't finish. The house has been vacant for years and is currently not in livable condition. She said the roof was replaced post-Hurricane Ivan (2004), as many of the homes we see have seen, and there was a leak at some point in the laundry room at the back of the house and that entire room was torn down.
Her asking price for the property was $30,000.
Normally, if we determine during that initial phone call that the property is a potential deal for us and the seller, we will meet them at the property and do a walk through. Marcia, however, lives out of state so that was not an option. The house was locked and no one locally had the key. She gave us permission to go and walk the property to see what we could see from the outside. The house is approximately 1160 sq ft on about half an acre in Northwest Pensacola. Unfortunately, we couldn't really see much because the windows were all boarded up. This is what we saw from the outside:
At this point, we are thinking this is a potential tear-down situation. The lot itself was nice and big with old growth trees, which is one of my pet peeves with large swaths of new construction — they usually clear everything out and, if you're super patient, in about 20-40 years, you can get those large tree canopies back again. So, the lot definitely had value … but, not $30,000 worth. There was a similar vacant lot that had recently sold for about $8,000. If the house needed to be torn down, that could cost in the neighborhood of $10,000. So, it was questionable if we would be able to make these numbers work for the seller who, again, was asking $30,000.
All you can do is make an offer and see what happens!
Based on the comparable properties in the area, the potential cost of tearing the house down, and/or the costs of rehabbing the house, the amount we could offer was $8,000. Yes, that's right. It's all a numbers game and that was the outcome.
Eesh.
We felt like there was no way she will go for that, but we also know that you can't make decisions for other people — ALWAYS make the offer! They are under no obligation to accept. Another consideration is that this house currently is not making the owner money. In fact, it is costing her money in annual taxes. So, this inherited property that has been sitting vacant and partially renovated for years is a financial burden. Maybe she will be happy to unload it for $8,000 cash?
We called.
Well, Mike called. He is better at this part of the process than I am. While these types of phone calls are never easy, we are transparent with the homeowners and explain how we got to our offer amount. Typically, when we go to a house and assess it for repairs, we take lots of pictures and then fill out a spreadsheet that estimates the renovation cost based on an average of contractor prices in our area. But, remember … we haven't seen the inside of this house yet. So, we did the best we could with our estimate and made our offer. The basic formula for making an offer on a home that will be renovated and resold ("flipped") is as follows:
Tear down or renovate?
In short, a similar nearby home that was recently renovated sold for $105,000. We used this as our comparison ("comp") and basis for our offer. Based on this, if this house was renovated, we would expect it to sell for a similar price. But, what would it cost to get it in that condition? We estimated about $65,000 for a full renovation.
Marcia said she would need to discuss the offer of $8k with her husband. She called back just a few minutes later — and accepted! Great! We sent over the contract using a program called DocuSign and … she didn't sign?
She emailed and said that the offer amount was incorrect. She thought that the offer Mike gave her over the phone was OVER $8,000, but she couldn't remember the exact number. We settled at $8,500 and she returned the contract signed. No sense in splitting hairs on such a great deal.
So, now what?
At this point, we now have a property under contract for $8,500 … but, we still haven't been inside. We extended the "inspection period" on the contract for a little longer than we would normally, from 21 to 28 days, because Marcia said she would drop a key in the mail to us in a couple of days. Well, until she called and said she didn't have one. 🙁
And this wasn't a simple locked doorknob that you could possibly open with a credit card. This was a deadbolt. But, Mike, being ever-resourceful, got a lock-pick set and, after a little practice at home, we went back out to the property a few days later where he was able to get us inside! He also changed out the deadbolt with one that he had a key for so we were able to secure the house, put the key in a lockbox, and access it without any further problems.
What awaited us inside …
Have you ever driven by an old abandoned building and wanted to go see what was in it? We do this all. the. time. lol It's an ongoing joke. But, this is the FIRST time we have ever actually done it.
This is what we saw when we first gained entry: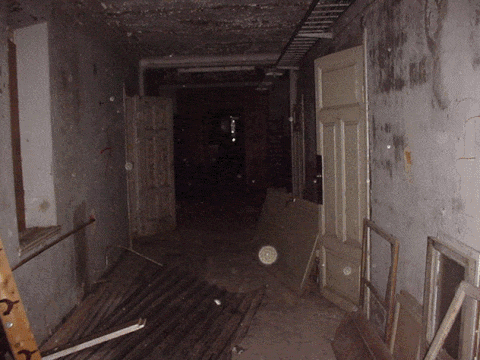 So, whaddya think?!
Actually, with as creepy as it was, it was in much better shape than we thought! We decided that this house has great flip potential, which was a relief since we already had it under contract without ever seeing the inside.
Since we have so much on our plate right now with renovations and repairs at our two rentals, we decided that we would wholesale this deal. This would just be too big of a job for us at the moment. But, it could make another investor that can get it done a lot of profit. As described in our contract, we have the right to market and "assign" (or "sell") our right to purchase the property to another party. We sent out this deal to our buyers list of fellow investors and shared it online in our local investors' Facebook group. We did this on a Friday night (not the best timing for doing business) and had an interested party contact us on Sunday night. We gave them the lockbox code and they went and saw it first thing on Monday. They called after walking through it and we had a deal! They purchased our contract for $17,500, which means we profited $9,000 without ever lifting a hammer and the seller makes their $8,500 as agreed upon per the contract.
Wait — how is that fair?
You might be thinking, hold up — that's shady. How do YOU make more money on this deal than the actual seller of the property?
As discussed in previous posts, finding motivated sellers willing to sell their properties at a discount is the way. And it typically takes a LOT of effort. Remember, we started courting this seller, Marcia, with our postcard mailers back in August after driving through this neighborhood looking for distressed properties.
When the time is right and people are ready to free themselves of a burdensome property, they will (hopefully!) remember our interest and contact us. That is what happened here. However, we can't buy all the properties as they come available. Sometimes, the timing is just not right.
So, what then?
When we find a deal that we don't want to keep for its flip potential or as a rental property, we have the option to wholesale that deal to another investor that does. That investor pays us basically what amounts to a finder's fee and still stands to make a substantial profit on the property once they renovate and sell it. Our fee is part of the cost of doing this business. The seller doesn't pay a dime in fees — the investor does. The seller gets the agreed-upon sales price, the investor gets a property with great profit potential, and we get compensated as the middle-man for bringing the seller and the investor together. It truly is a win-win for all parties involved.
We think that the investor who purchased this contract from us is planning on renovating the house for a family member rather than to fix up and sell on the market. That was the impression we got, anyway. Either way, it's nice to think about the place getting new life for another family to enjoy. I hope that it eventually makes it's way onto the market someday — I'd love to see pics of the finished renovation!
If you know anyone that would like to sell a house like this, please send them our way!
If you'd like to see a video about this deal, click below (and please subscribe to our YouTube channel while you're there)!